Do you genuinely enjoy assisting people who are in need of care and want to help improve their quality of life? Do you enjoy being around the elderly or people with disabilities? Do you want to have a career that provides flexibility for when and where you work? Would you like to start a career that can lead you into many other careers in the health field, but yet does not require extensive training or a college degree? Interested in how to become a Home Health Aide?

As a Home Health Aide (HHA) the quality care you give to your patients makes a world of difference to them and their loved ones. If you are compassionate, mature, and dependable, a HHA career may be just the right thing for you!
Learn how to become a home heath aide, find training, and a new job here at HowtoBecomeaHomeHealthAide.com.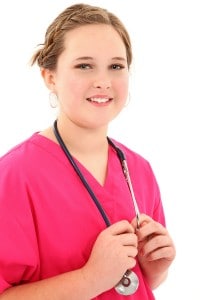 What is a Home Health Aide?
A HHA provides home health care for people (patients) who need assistance with daily living in their home beyond what family or friends are capable of providing. Patients include those who have a physical or mental disability, are recovering from an injury or surgery, have a chronic illness, or are advanced in age. A HHA may also be known as a Patient Care Technician, a Residential Assistant, or a Home Health Provider.
HHA's typically works independently while under the supervision of the patient's registered nurse (RN) or physical therapist. The variety of services provided by a HHA depends upon their specialty, but typically includes the following:
Administer prescription medicine
Check vital signs – pulse rate, temperature, respiration rate
Change bandages
Physically move patient from one area to another (out of bed, bath, wheelchair, vehicle)
Light housekeeping (laundry, change bed linens, sweep, dust)
Provide massages to prevent bedsores
Help with physical exercises and other therapies
Bathing, dressing, and grooming
Feeding
Preparing meals as prescribed
Support emotionally and psychologically for companionship/entertainment
Provide transportation to doctor appointment or to go shopping
What are the Demands of an HHA?
Being a HHA requires both physical and emotional demands. A person in this field should be strong physically and have good stamina because they may need to lift their clients and withstand long periods of standing and walking. It is very important that they learn how to move and lift patients properly to avoid injuring themselves. Because HHAs are in close contact with their patients, they must also be sure to adhere to proper procedures to avoid passage of infections and diseases.
A good HHA has certain qualities making them best suited for this career field. Without having the right personality or traits, he or she may find this field to be emotionally draining since some of the duties performed can be displeasing.
The following lists certain qualities that define a well-suited HHA:
Empathetic
Patient
Compassionate
Dependable
Strong physical stamina
Discrete
Honest
Service oriented
Good communicator
Problem solver
Time management abilities
Perceptive
Steps to Become a Home Health Aide
Learning how to become a home health aide requires neither a high school diploma nor a formal education to become a HHA. But having at least a high school diploma or equivalent (GED) will give aspiring HHAs an advantage over others who do not. If an HHA works for an employer that receives reimbursement from Medicare, Federal law requires that HHAs pass a competency test which covers a wide area of disciplines within home health care.

Each state varies in requirements to work as an HHA. To determine your state's requirements, contact your state's Board of Nursing via the National Council of State Boards of Nursing (NCSBN) for specific information on whether or not you must be certified or licensed, the type and amount of training required, and what types of exams you may need to pass. In some states, you must become a Certified Nursing Assistant (CNA) before taking the state exam. A background check may also be required by the state you live in.
An HHA can also be certified by the National Association for Home Care & Hospice (NAHC). Even if becoming certified is not mandatory, getting your certification will certainly increase your chance of being hired.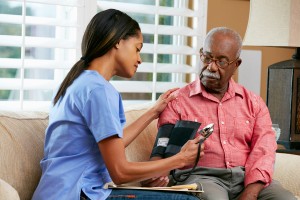 How Can I be Trained as an HHA?
Minimal educational and professional requirements are required for HHAs. Home health agencies and other employers will require HHAs to meet training requirements mandated by the state. As a HHA, you can fulfill the requirements in various ways.
HHAs may receive classroom training as a new hire from an employer or potentially have on-the-job training from another experienced HHA, registered nurse (RN), or licensed practical nurse (LPN). You can receive formal training opportunities from:
Local community colleges
Vocational schools
Elder care programs
Home health care agencies
Typical coursework included in a training program include: HHA Introduction, medical terminology, nutrition, basic life support, and medication mathematics. If you work for an employer that receives federal government compensation from Medicare or Medicaid, you must complete at least a 75 hour training program along with 16 hours of supervised training.
Once training is completed, a new HHA may be required to complete a competency evaluation to ensure they can properly perform tasks as required for their patients. Without additional or advanced training, advancement within the HHA field is limited. Click here to request FREE HHA training information.
Where Can I Find a Job as an HHA?
The job prospects for HHAs are excellent! As reported by the Bureau of Labor Statistics, the field is expected to grow by 48% from 2012 to 2022, which is much faster that the average rate for all professions accounted for.
The demand for quality HHA will grow fast mainly for the following reasons:
The elderly population is continuing to grow and older clients often have health issues.
Patients are increasingly relying on care at home because it less costly than staying in a hospital or a nursing home.
Patients prefer to be cared for in their own home for comfort and familiarity.
As an HHA you can find a position in a variety of settings, including private home health agencies, health care services, nursing homes, residential care facilities, and state or county welfare agencies. In addition, you can be self-employed.
What's the Difference Between a HHA and a CNA?
HHAs are many times confused with Certified Nursing Assistants (CNAs) as HHAs typically perform the same type of duties that CNAs are assigned.
So what are the differences? As an HHA, you will generally work with one patient at a time in their own home. CNAs instead work in a care facility to be responsible for a group of patients simultaneously.
Another difference between HHAs and CNAs are the requirements for education and formal training. Schools that provide training require prospective CNAs to have a high school diploma or equivalent. Federal and state laws require completion of an approved post-secondary training program and thereafter passing a state exam.
As mentioned above, HHAs are not required to have a high school diploma or equivalent and the state you live in will determine if you need to complete a training program and/or get certified. Thus, requirements as a HHA are not always as rigorous as for a CNA.
What Can I Expect to Make as an HHA?
According to the Bureau of Labor Statistics, the average annual salary for HHAs in 2012 was $20,820, having an average hourly wage of $10.49. Top paying states for HHAs include Alaska, North Dakota, Connecticut, Nevada and Wyoming with a salary range between $27,460 and $29,100.
The best way to increase your salary significantly is to attain higher education levels and obtain certification. Along with getting more education, you will also have more opportunities to transition into other areas with the medical field!
What Are the Benefits of Becoming an HHA?
For the right person, a career as a HHA is rewarding in many ways! If you get internal satisfaction from knowing you've made a difference in the quality in someone's life – this is a great opportunity for you. High job prospects, flexibility, low requirements to enter the HHA field, along with possibilities for advancement in the medical field are just some if the great benefits in becoming a Home Health Aide.
Career opportunities in the medical field are abundant and fast growing! Beginning your career as a HHA is a great way to help you decide if the medical field is right for you. While learning how to become a home health aide, be sure to continue getting education to help keep your career options open.