Get Free HHA Training in Brooklyn
Looking for free HHA training in Brooklyn?
There are lots of choices to get training that will provide you with HHA education that is approved by either NY State Education Department or the NY State Department of Health in Brooklyn. I
n addition, for HHA training programs that are approved by NY State Department of Health – tuition is free of charge!

HHAs, an acronym for Home Health Aides, are health providers trained to give assistance in activities of daily living (ADLs), typically in the private homes of those who need assistance.
ADLs are routine tasks that people can normally perform – such as brushing teething, showering, dressing, using the bathroom, eating and more.
In addition, HHAs assist with giving proper medication, provide transportation, performs light housekeeping duties and provide companionship.

Before embarking on a
career as a HHA
, have you determined whether or not this is the right field for you?
As this field can be fairly demanding, both physically and emotionally, make sure that you have the right temperament, physical capability and that you enjoy being around and helping other people.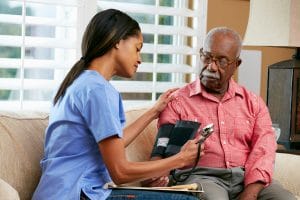 The state of New York requires HHA training programs to consist of a minimum of 75 training hours.
This includes of 40 hours for home care training and 35 hours of health related duties, with 16 of those hours being supervised practical HHA training.
Free HHA training in Brooklyn
Here we have listed a few schools below that are providing free HHA training in Brooklyn.
Caring Professionals
This home care services company is actively recruiting qualified HHAs.
To assist them with finding the right personnel, they offer free home health aide training that is approved by the New York State Department of Health.
Taught by a team of highly qualified and experienced registered nurses, classes are offered both during the day and evening to suit your schedule.  They also offer classes in several languages.
Caring Professionals holds open houses to hire new HHAs at both there Brooklyn and Queens locations. Once hired by them, you will receive great benefits and a competitive salary.
To apply for the free training, fill out their request information here, or call them at 718-333-1400.
Best Choice Home Health Care
The four-week HHA training program offered by Best Choice Home Health Care provides you what you need to begin a successful career for free. Once you complete the program and successfully pass the final exam, you may also receive an offer for employment.
Before applying for training, make sure that you meet their qualification criteria: can attend 4 weeks of training without any absences, can work at least 30 hours per week after program completion, can pass a set of background checks, have the flexibility to work days, nights, and also every other weekend, and have strong personal core values.
You can contact Best Choice at 718-319-2525 or fill out their online form here.
First Care of New York
This family-owned and operated home care agency offers a free 15 day HHA training program within its facilities that are licensed by the NY State Department of Health.
To enroll in the program, simply provide them a valid identification card to prove you can work in the US, social security card and a professional reference – typed and signed by the reference. After this information is received and application is completed, you will be scheduled for an interview for training.
Contact First Care of New York at their Brooklyn location by phone at 718-675-6200. The facility is located at: 833 Flatbush Avenue, On Linden Blvd, Brooklyn, NY 11226.
Allen Health Care Services
You can receive both a free HHA education and a job with Allen Health Care Services.
Upon successful completion of the program, you'll have earned your HHA certification from the NY State Department of Health. You can then also advance your career and opportunities with additional training from Allen Health Care Services.
Contact the Director of Recruitment, Stephen Gerowski, at 718-657-2966, extension 267 for more information about the program. The office in Brooklyn is located at: 145 E. 98th Street, Ground Floor, Brooklyn, NY 11223.
Getting started in the medical field by getting free HHA training in Brooklyn offers you a great opportunity to enter the HHA field. Therefore, make sure to check that the school you choose to begin your HHA career is the right one for you.
More Home Health Aide Training near you!
<!