Hello and welcome to How to Become a Home Health Aide! If you are interested in the Home Health Aide (HHA) career field – this is a great place to start.
We built this site specifically for anyone interested in learning how to begin on the path to work in a respected, yet easy to enter career in healthcare.
As you probably already know, healthcare careers are in very high demand and the HHA field in particular is one of the fastest growing career fields in healthcare.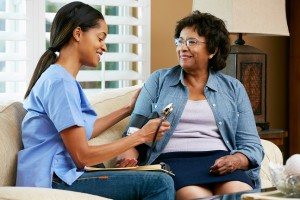 Our site provides details to help you understand what the HHA field is all about, how and where to get home health aide training (possibly free HHA training), how to get a job and more.

So, what specific information are you looking for about becoming a HHA?
Understand what a HHA does:
How to Become a Home Health Aide
How to be a successful HHA:
How and where to get HHA training:
Where and how to get a great HHA job:
We hope that the information we provided gives you a big head start on your way to a great HHA career. Thank you and best of luck to you in your new HHA career!
~ Erica
 P.S. If you've found this page to be helpful, would you mind sharing it? Simply click on any of the sharing icons provided.
Home Health Aide Training near you!