Jobs for Home Health Aides: The Future Looks Bright
Jobs for home health aides are widely available for those who are properly trained. 
As a Home Health Aide, you'll help people stay healthy, keep them in good company and make them comfortable in their own homes. You'll give families peace of mind. The list goes on and on…
Becoming a HHA is a fantastic career choice. And the future in the home health aide job market continues to look even brighter!

If you've been wondering whether or not you should pursue a job in the medical field, we're going to give you the answers you need about home health aide careers.
How To Become a HHA loves helping new people into this fulfilling career. That's why our site is full of great information for you to check out.
Keep reading to find out whether or not you really should be looking into jobs for home health aides!
Are Jobs for Home Health Aides Available?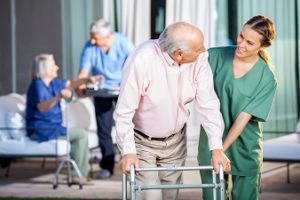 These days, it seems hard to find someone who hasn't had their career impacted by job cuts or other problems.
So many bright, talented people are seeming to struggle to find a job and it's understandable to wonder if pursuing a career in being a home health aide is a good idea.
Thankfully, now is a fantastic time to start job hunting!
The medical field is very understaffed. This means that positions as doctors, surgeons, nurses, and home health aides are in high demand from both families and patients that need help.
This career field really is a life-saving and life-changing career, and the United States is really in urgent need of more caring and professional people like you.
HHA Job Outlook is Good!
The US Government creates an occupational outlook handbook to help people really see the big trends in jobs they're interested in.
Probably one of the greatest and most exciting signs that a future in professional home care is stable is the fact that it's predicted to grow steadily.
The Occupational Outlook predicts that home health aide jobs will grow by 38% within the next few years, which is an incredible increase!
Work Schedules Are Flexible
One of the greatest parts of many home health aide jobs is the fact that the schedule is flexible. This means that you can work as much as you want, when you want.
You will be making set schedules with the patients and families you work with, and these can be compromised to work with your availability!
The best part? You'll be able to still maintain your personal life while really making a difference in the lives of your patients.
Another perk? You could be earning up to $37,000 a year! This means that home health aides are one of the higher earning medical positions that exist without medical or nursing school!
As an individual with a passion for helping others, but perhaps some time restrictions and no interest in lengthy schooling, this could be perfect for you!
Training to work as an HHA can be completed in a very short amount of time.
If you're interested in learning more about this great career option and how you can enter the medical field, continue to check out our website.
Click here to request free HHA training information.
For listing at bottom of page:
Add to bottom of page: