Where to Get Free Home Health Aide Training
Home Health Aides, also known as HHAs, are trained to provide essential home health care duties in the private homes of people who are in need of daily living assistance.
Prescribed to patients by their doctor or therapist, HHAs are vital to the well-being of those who prefer to live in their private home as opposed to staying in an assisted living facility, nursing home, or other institution.
HHAs will typically perform the following activities for their patients:
Check vital signs
Ensure medicine(s) are taken as prescribed by a doctor
Look for changes in an illness or injury
Check on the patient's overall health and well-being
Physically move a patient from one place to another
Assist with baths and dressing
Prepare and feed nutritious meals according to their individual needs
Light housekeeping and shopping
Provide companionship and conversation

Great home health aide jobs are in high demand, as more people are choosing the option to have the personal support care they need in their homes rather than a nursing home or other facility.
The home health aide career is one of the fastest growing fields in healthcare today. Your chances of getting a good job are excellent!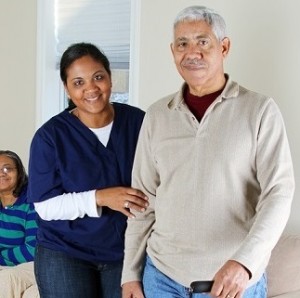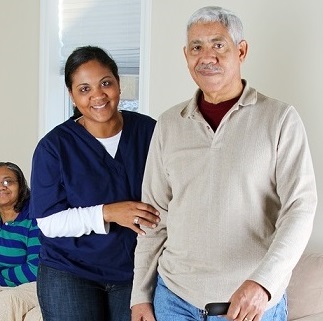 The training to become a home health aide varies by the state you live in and by whom you are employed by.
Each state sets their own guidelines for minimum hours of training in the classroom and in a clinical setting.
If your employer is federally funded by Medicaid or Medicare, federal legislation requires formal training and evaluation via a state-approved training program.
Free Home Health Aide Training is Available
The good news is that is it very possible for you to receive FREE home health aide training!
There are many schools, organizations and employers that will provide you with free education to launch your career as a HHA throughout the United States.
Before looking for a free home health aide training program – do you meet the following typical criteria for enrollment?
At least 18 years of age
Able to read and write English above the 6th grade level
Have a government issued photo identification – such as a driver's license or passport
Authorized to work in the United States
Can prove that you are physically and mentally capable for a HHA job.
How to Find Free Home Health Aide Training
To find free HHA training, first do a search via the web or a phone book for all of the home health care agencies in your local area.
Call each of the agencies and ask them about free (or perhaps low cost) HHA training programs available.
These agencies will also typically provide career placement upon graduation from training.
Be sure to understand whether or not it is required to work directly for them if you agree to receive the training. Also understand how long you would be expected to work for them.
A great example of free HHA training is from First Care of New York located in Elmhurst, Brooklyn, and the Bronx NY. Minimum requirements to enroll with this HHA program includes a valid ID to prove that you can work in the United States, a social security card,  and a professional reference.
One you successfully complete the training program, you'll be offered an assignment to begin working.
Here is a short list of other organizations offering free training to become a home health aide:
You may also find free training resources through state and federal agencies, as they oversee requirements for certification for Medicare and Medicaid funded home health care.

Regardless of where you receive your free home health aide training, be sure that the curriculum offered is state-approved to enable you to work for an agency that is funded by Medicaid or Medicare.
As a person who is committed to improving the well-being of others, begin your career by getting the proper training.
More Home Health Aide Training near you!