How to Obtain a Home Health Aide Certificate
Do you love helping people and want to start a great career where you will have a positive impact on someone's daily life?
Or perhaps you are looking for a easy to enter, stable job in the medical field while you work towards becoming a nurse?
You might be the perfect candidate to become a Home Health Aide.

The US Bureau of Labor Statistics predicts that this occupation will increase 38% between 2014 and 2024.  All you need is a home health aide certificate and you'll be on your way to becoming part of the growing 38%.
What do Home Health Aides do?
Home Health Aides (HHAs) assist individuals with disabilities, chronic illness, or other limitations in the monitoring of their health on a day to day basis.
A majority of the individuals you will work with as a home health aide will most likely be elderly patients.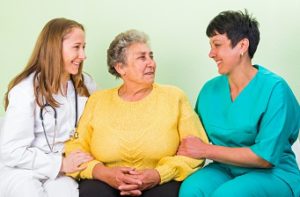 Duties may include helping with medication, monitoring vital signs, changing any necessary bandages, and seeing to other minor medical needs.
You may also be asked to tend to the patient's personal needs such as bathing, meals, and bathroom visits.
We have more information on the duties of HHAs available to you here.
Why do I need a Home Health Aide Certificate?
There are different requirements for training new HHAs in each state, so be sure to research the exact requirements in your state.
Some may have slightly different education requirements, but in many cases, you do not need a high school diploma or a GED to become a home health aide as long as you do have your home health aide certificate.
If you work for a company that accepts patients with Medicare or Medicaid, formal training is required before you can be hired.
If these factors aren't true of the company you're applying to work with, it may still be a good idea to get your home health aide certificate.
A home health aide certificate can give you a leg up on the competition and can also factor into potential promotion opportunities down the road.
It can only help boost your potential for getting better and higher paying jobs!
How Do I Get a HHA Certificate?
A HHA certificate can likely be earned in a semester from most accredited colleges and post-secondary educational institutions.
In order to enroll in these programs, you may be asked to complete a physical examination, blood tests, and a background check.
During the course of the semester, you can expect to be spending approximately 75 hours in the classroom with a live instructor. In addition, you will have clinical dates when you will be receiving hands on training with industry professionals.
There are also several accredited online options, including a diploma program through Ashworth College. Once you have passed the class, you must take the Direct Care Alliance Personal Care and Support Credential Exam in order to earn your certificate.
Further information regarding scheduling your test time should be made available to you upon completion of your course.
So, you've passed the test. Congratulations! But what comes next?
You can now start searching for jobs in your area.
In a matter of weeks or months, you could be well on your way to a promising new career as a home health aide. What are you waiting for?