5 Tips to Get Started with Home Health Aide Training
Are you thinking about going through home health aide (HHA) training and turning your nurturing, caring and thoughtful personality into a new career path?
You've come across a great idea! HHA jobs offer flexible, part-time hours, excellent employment prospects and a deep sense of personal accomplishment – what's not to like?

But before jumping into training, consider the tips below to ensure your success.
Top 5 Tips To Consider Before Beginning Home Health Aide Training
1. Explore Your Options To Learn About The Profession
Before becoming a home health aide, think about all of your options.
Try attending caregiver's classes. These will help you learn the basics of the prospective profession.
Also, consider starting our work as a companion. You can do so through organizations such as Excellence in Care. Such organizations like this offer critical caregiving support and are basically everything short of medical care in the home.
You can also check out organizations such as the Family Caregiver Alliance. This alliance offers workshops, seminars, and classes for those who are looking to work as professional caregivers.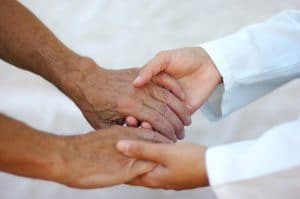 2. Think About Your Motivations
Before making the move to begin training to become a home health aide, ask yourself: "What are my motivations?" This will help you to set the wheels of change in motion.
Clarify why you want to be a professional caregiver, and what it is that pushes you to go through home health aide training.
Brainstorm your reasons behind your motivations and also explore your interests and traits to see if you possess the top home health aide qualities that will make you successful on the job with typical home health aide duties.
3. Ask For Feedback
Look to those who have already gone through home health aide training for their feedback.
Chat with professional caregivers to learn about the time and money investment in education, salary, and career trajectory.
Asking for feedback from those who have "been there, done that" will help you get a better look at your possible career path.
However, don't just take their word! Also consider volunteering to get a sense of the environment, challenges, and rewards, first hand.
4. Investigate Potential Salaries
Look into the salaries that come with your possibilities for employment.
Make sure that you're okay with the results that you find.
Keep in mind that salaries will vary by location, facility, and degree.
If you're looking to go into this field but also want to make as much money as possible, consider working directly for a family or facility. This is where you'll make the most money, because you won't be working through a fee-based agency that will take a cut of your wages.
5. Go Through Training And/Or Receive A Degree
A degree isn't always required for becoming a caregiver. However, training is essential when seeking to, and actually working with clients.
Most likely there is a local college near you that provides courses leading to a certificate for prospective caregivers.
Also, there are many schools dedicated to HHA training those who want enter the healthcare career field.  These programs generally can take a relatively short amount of time become a certified home health aide (CHHA).
Another option is to visit the American Red Cross to find a course near you. Simply search for nurse assistant and home health aide training in your state.
If you do choose to go the longer route to get an advanced degree, there are many great options to explore. These include nursing, licensed practical nursing (LPN), or becoming great options to explore.
Are you just beginning to navigate your way into the the HHA field? Start here to learn more.
Are you a home health aide? Where are you working now, and what led you to make such a choice?
We want to hear about how life post-home health aide training has gone for you, so comment below!