What to Expect Taking Home Health Aide Classes
Caregivers who have attended home health aide classes are in demand in many geographic locations due to the increasing population of senior citizens requiring knowledgeable employees.
A large number of elderly individuals will require assistance in their own home from competent caregivers with the appropriate home health aide training.
Many infirm or elderly clients will need round-the-clock assistance from multiple caregivers with excellent communications skills. In certain states, a HHA must register with a governmental agency to prove they have current certification.

If you are interested in this career option, then understanding how to enter this job field is necessary.
Finding Educational Programs for Caregivers
One of the main criteria for a compassionate caregiver working in an infirm or elderly individual's private residence is to pass a criminal history background check.
Federal and state background checks are vital for protecting senior citizens from an assistant with a history of drug, alcohol or physical abuse.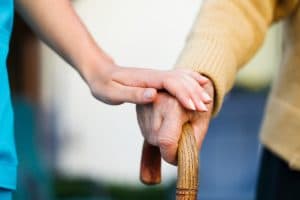 There are great brick-and-mortar and online schools that offer home health aide classes to students interested in providing personal care to elderly clients with physical or mental infirmities.
Prospective students can contact community colleges and caregiver placement agencies to learn about home health aide training programs in their cities. There are a number of places to get HHA training for free as well.
Understanding How to Handle Emergencies
Assisted living facilities and nursing homes often offer coursework and practical experiences in professional caregiver responsibilities as part of their certified nursing assistant programs. Most schools or facilities will require a student to have a high school diploma before beginning HHA classes.
Students must take an assortment of classes to care for an elderly or infirm individual correctly. Understanding the human body by studying anatomy or physiology courses is typical for professional caregivers.
Students are required to pass coursework in first aid and cardiopulmonary resuscitation to assist a client with a medical emergency.
At the same time, caregiver students are taught about confidentially regulations concerning patients in health care settings.
Reading and Following Care Plans
Caregivers typically work in physically demanding roles with clients requiring assistance with mobility issues such as walking and sitting. Students must learn how to lift and move clients safely while providing essential body care such as bathing or showering.
Students studying this personal care occupation must learn about sanitizing items including bedding to prevent frail clients from developing an infection or illness from dangerous pathogens.
HHAs in private residences work under the authority of registered nurses who develop individualized care plans for each client.
Home health aide classes include teaching students how to read and follow the care guidelines designed for clients in the correct order.
Pass a Competency Test
HHA classes in basic nutrition teach professional caregivers how to prepare healthy meals for elderly clients with special dietary needs.
The caregiver also needs to know how to feed a patient correctly to avoid choking hazards. Throughout the day or night, a caregiver must check a client's vital signs such as heart rate, body temperature and blood pressure.
Medical personnel including physicians, registered nurses and certified nursing assistants teach students these necessary procedures in community colleges or health care facilities.
Before working with clients in a private residence, a student may take a national or state competency exam that documents knowledge learned in practical settings and home health aide classes.
More Home Health Aide Training near you!