What is a Home Health Aide?
Because of the growing increase in the aged population, disabilities among veterans, and a variety of other reasons, the home health aide (HHA) has become one of the fastest growing careers in the healthcare field.
And because the educational requirements are low, it is relatively easy to qualify for this position.
A high school diploma is helpful to enter this field, but in many cases not necessary. Make sure that you clearly understand what a home health aide is before you decide to make this your career.

Some states offer home health aide certification after a period of supervised on-the-job training. In other states you may need more formal vocational schooling.
Federal and other agencies that provide services through Medicare or Medicaid require some form of state approved vocational training and the completion of an evaluation.
What is a Home Health Aide?
Most HHAs work for a home health care agency under the supervision of a professional, usually a registered nurse or licensed practical nurse. HHAs provide personal care, in the home, for patients with physical disabilities and age related or cognitive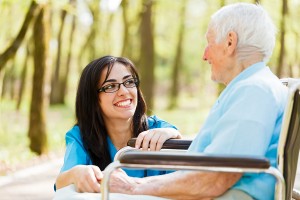 disabilities.
Duties range from helping with medication, changing bandages and checking vital signs to helping with personal tasks such as bathing, dressing, eating, and bathroom visits.
It may be necessary to train the patient in handling assistance products such as canes, walkers, oxygen equipment or other devices of that nature.
They might need to be shown how to rise from a sitting position or otherwise re-position themselves safely. Or they might need transportation to get to their doctor, or help with grocery shopping.
This is different from a home care aide or companion who usually helps with daily living activities such a meal preparation, laundry and housekeeping. In some cases, these duties might overlap.
Is This the Right Career for You?
Home health aides usually earn around $10 per hour. However, it varies depending on the state.
Most states in the deep south pay a fraction less. This is, perhaps, not the job for everyone. A person needs to be detail oriented and skilled in time management.
People skill are also must. Patience is needed, especially when dealing with stubborn, uncooperative patients, or those with symptoms of Alzheimer's disease or dementia. You should be physically competent; the lifting of patients or heavy equipment may be necessary.
If the above home health aide description fits your personality, and this is a field you wish to enter, you'll want stay abreast of the latest developments and earn your HHA certification.
It will make your job easier and place you in a better position should promotional opportunities arise.
If you like helping people, joining the HHA profession should give you much satisfaction and provide a rewarding career.
Home Health Aide Training near you!